John Deere Marine 5-Year/5000-Hour Factory Extended Warranty* FREE for a limited time.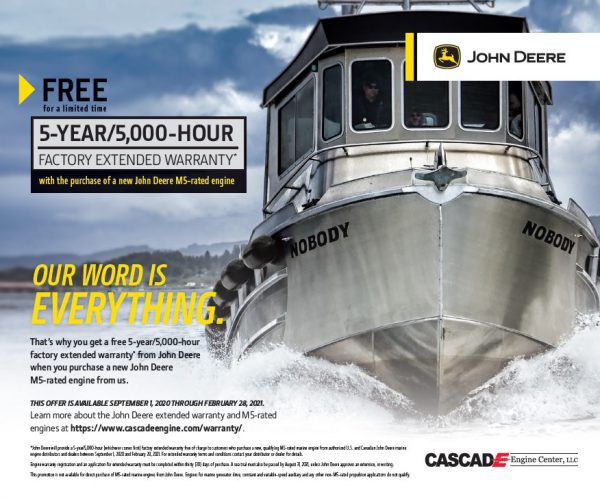 Whether you're close to shore or on the Bering Sea, it's nice to know you've got premium, reliable power with a solid marine warranty behind you. Contact a Pacific Northwest Dealer today.

Program Requirements:
• Engine must be sold to boat owner or boat builder within the Program Term: September 1, 2020 to February 28, 2021.
Click here to contact your nearest PNW Dealer.

• Qualified engines: a new propulsion marine 4045, 6068, 6090, or 6135 with an M5 rating to a customer during the Program Term.
• The Dealer must assist the customer to complete the application for Extended Warranty to JDPS within 30 days of the customer's engine purchase date. Select the 5 year 5,000-hour Extended Warranty coverage option.
• The Dealer must provide the customer a copy of the extended warranty statement (located in the Service Administration Manual).
• A sea trial must be included as a line item on the quote to the customer.
• The Dealer must register the engine via John Deere Warranty Registration web site within 30 days of the customer's engine purchase date.
• The Dealer is responsible for performing a passing sea trial for all applications and the sea trial must be submitted on the current sea trial from to JDPS through the JDPS—Application Review Depot on the Web Portal
• The passing sea trial must be completed on or before August 31, 2021, unless the Distributor has obtained prior written approval for an extension. If JDPS approves an extension, the Dealer must complete the sea trial within such approved extension period.

This Promotion features John Deere's comprehensive 5 year/5,000-hour extended warranty offering and extended warranty claims will be administered in accordance with the terms and conditions of the John Deere OEM service administration manual (Off Highway Engine Extended Warranty DF 1766) including the $250 deductible.
*John Deere will provide a 5-year/5,000-hour (whichever comes first) factory extended warranty free of charge to customers who purchase a new, qualifying M5-rated marine engine from authorized U.S. and Canadian John Deere marine engine distributors and dealers between September 1, 2020 and February 28, 2021. For extended warranty terms and conditions contact your distributor or dealer for details.
Engine warranty registration and an application for extended warranty must be completed within thirty (30) days of purchase. A sea trial must also be passed by August 31, 2021, unless John Deere approves an extension, in writing.
This promotion is not available for direct purchase of M5-rated marine engines from John Deere. Engines for marine generator drive, constant and variable-speed auxiliary and any other non-M5-rated propulsion applications do not qualify.


Find a PNW DealerToday >